Tonight our church held our annual Candlelight Service. This is a very special service. It is a time for our church to come together and share in the Lord's supper. We are challenged to examine ourselves to see if there is anything that would hinder us from participating in the Lord's supper. I always ask the Lord to show me if there is any unconfessed sin in my heart or unforgiveness that I need to deal with. I am thankful that the Lord is able to cleanse me of my sin problem, or I could not stand. As I confess my sin to him, He will forgive me and cast my sin as far as the east is from the west. That is so comforting to me. The Lord's supper is served by our pastor and deacons.
After the Lord's supper, where we remember His body that was broken for us and the blood that he shed for us, we begin our candlelight service. Our Pastor explains that just as Christ is the Light of the world, we as Christians are to reflect His light. If Christ would not have come, this world would be a dark place. The stage lights began to go down. It gets so dark that you can not see your hand in front of your face. This is what a life without Christ looks like.
Then the Pastor calls the other ministers to light the Christ candle. That one beam of light shines throughout the room to dispel the darkness.
The Pastor's light their candle and they light the deacon's. The deacon's light each member of the congregation. Until every candle is lit.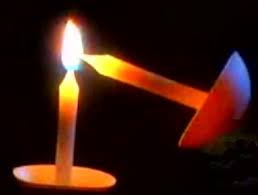 As each candle is lit, the darkness is dispelled. It gives us such a glimpse of the power of the Holy Spirit living in each of us. It also show us that the more light that shines, the less darkness can prevail.
As each Christian lives their life in honor to Christ, we can began to bring light into this dark world.
When all our candles were lit, we lifted them high into the air as the choir sang "O Holy Night". It was such a moving moment to see each person's light shining. Does your light shine?
I pray that my light will shine before my family, co-works, the girl's I counsel, my friends, my community, and my church family. It has to start with me and then I can light another, and they can light another…and so forth. Go light your candle and pass it on, one life at a time. Share the good news of Christ this Christmas season.